Juan-les-Pins Jazz Festival - Jazz à Juan- Jazz in Juan Festival
50th International Jazz Festival Antibes Juan-les-Pins
JAZZ à JUAN July 14 - 25, 2010 celebrating its 50th anniversary
Visiting the 50th Juan Les Pins Jazz Festival 2010
The 50th International Jazz Festival at Antibes Juan-les-Pins (Jazz à Juan) was on between 14th and 25th July. The weather was superb with some of the hottest July days for 30 years and a great cast of performers.
I first went to Jazz à Juan festival in 2008 and saw Keith Jarrett, Gary Peacock & Jack Dejohnette perform. It was a fantastic evening and so booked the visit to the area around the time of the festival. I wanted to see Melody Gardot and Diana Krall, however had to return to England on the 19th July and Diana Krall was performing on Thursday 22nd!
The tickets for the Dee Dee Bridgewater and Melody Gardot evening, Kyle Eastwood and Diana Krall and the Keith Jarret Trio had sold out early for reserved seating. We managed to get tickets for the non reserved area early in June and by arriving early still had great seats in the venue.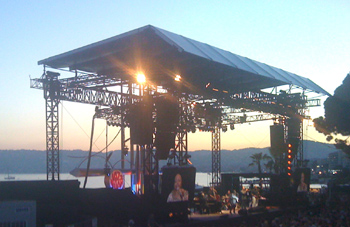 Dee Dee Bridgeater - Click on Picture to increase size
The performance was due to start at 8.30 and it was nearer to 8.45 when Dee Dee Bridgewater came on stage. The background is amazing with the stage that now has the benefit of two large screen televisions that were not there in 2008 and the sun slowly setting on the Mediterranean behind.
The Dee Dee Bridgewater part of the concert was fantastic and she has so much energy. Melody Gardot came on in the second half, by the time it was dark and she also gave a great performance, although one of the numbers did go on for rather a long time. She is a very young singer who is only 25 and has recovered well from the serious road accident a few years ago when she was knocked off her bike. She now wears glasses as her eyes are affected by light. She continued to well after 12.00 following an "encore" return.
There are very strict rules about photography and the security people are constantly looking out for anyone who might try to take a shot with their mobile phone and then approach them and reprimand. They are probably going a bit over the top, however many artist do not like being photographed and naturally flash photography would be most off putting. It is the same in most theatres and concert venues, but of course this one is in the open air and the environment even more magical.
A couple of years ago I started an info page on cotedazurental.com at http://www.cotedazurrental.com/Juan_les_pins_Jazz_festival.htm and needed photos and needed photos to illustrate the page and received some licenced pictures to use on the page. Naturally I knew on this visit I certainly could not take any photographs unless it was in the interval.
As the concert went on a long time a lot of people started to leave early, it seems a shame as you are trying to listen to the music there are people all around going. Had this been at the Keith Jarret Trio concert two years earlier, he would probably have stopped playing. The 14th July is a very special day in France - Bastille Day and there are normally fireworks the night before or on the 14th. Sometimes some of these celebrations continue along the coast on other nights and the night the trio was playing fireworks could be heard, so they stopped playing till they had everyone's full attention.
The movement of people like this in such great numbers would not occur in an indoor event like the Royal Albert Hall in London.
What I found was so good on this visit was that you had two artists appearing in the same evening and this makes it even more enjoyable and great value at €27 a seat.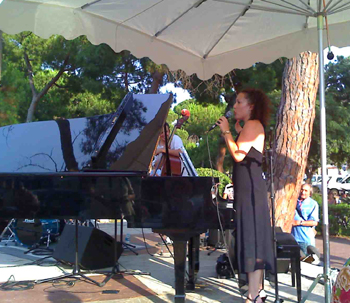 Click on Picture to increase size
Jazz doesn't only take place in the Pinède Gould, but in different cafes and bars in the town. There is also a small stage for performers in the park area quite close to the main venue and it's all free as well.
Leaving the Pinède Gould and walking into the centre of Juan Les Pins at 12.30 on a Saturday night like this you will find the bars packed with very young people, others queuing to get into discos and many clothes shops open at that hour.
I will be back next year.
©Philip Suter jml Property Services - July 2010
Please note you may re-produce this article on a website as long as you credit the author, however the images of the artists and the Jazz Festival on this page and
Juan-les-Pins Jazz Festival page
must not be used as they are copright from Office de Tourisme d'Antibes Juan-les-Pins – Y. Seuret and unless you obtain written authorisation from that source you will be breaking copyright law.
Images from the 2010 - 50th anniversary festival (click on image to enlarge)
©

photos copyright : Office de Tourisme d'Antibes Juan-les-Pins – Y. Seuret


ZDee Dee Bridgeater Z Marcus Miller Xxxxxx Kyle Eastwood

More information about Jazz à Juan / Juan-les-Pins Jazz Festival - Here
______________________________________________
Other pages to see:
Also:
______________________________________________


Do you own a Holiday Home in the South of France or Monaco? Is the insurance policy written in English? Find out more Here

Enjoy your stay in the South of France ....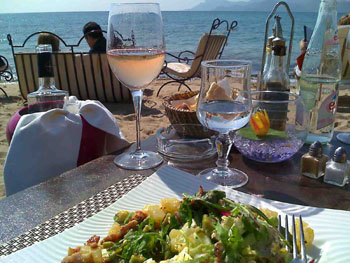 eat - drink -stay & wake up on the Riviera
________________________________________________
See site Map for statutory information about jml Property Services Here