Find more articles about the South of France Here
This should not be relied on for up to date accuracy as it was posted in 2005 with a disclaimer at the end
Factfile – Property Taxes in France
So you are about to purchase that ideal property – If you require finance or don't you still have to take into account the payment of property taxes. In France the tax system is centralised, however the location of the property will ultimately determine how much you pay.
First of all you have to pay the "notaire's" fee. Most of this in fact goes to the government like Stamp Duty in the UK. This will work out around 6% to 8% of the purchase price. There is also a small land registry tax to pay.
The property sale is now complete. You have the "Taxe D'Habitation" which is a local tax. The amount you will pay is determined from the cadastral value of the property. This is based on the size and location –not market value. It is generally thought to be reasonable particularly in rural areas. It should be noted that if you let your property as a holiday let and go there a few times a year you still pay the "Taxe D'Habitation", but in many areas you will also have to collect a"Taxe de Séjour" from your "paying guests". The authorities see it as you are making money from renting out the property then so you should pay them some revenue as well. This might only be a few cents per person per day, but it still has to be paid and it will depend on your local town hall. (See also our Fact File on Taxe de séjour CLICK HERE )
The "Taxe foncière" is also paid annually. This generally quite low. There is also a wealth tax "Impột de solidarité sur la fortune" that is paid by owners of property worth in excess of €732,000.
Inheritance tax: "Impột sur les successions" this usually has to be paid when the owner dies or one of them.
You are also expected to pay tax on any rental income and although France has tax treaties with many countries including the UK it is worthwhile employing an accountant to help you manouver through the French tax minefield. (See also our Tax declsarations in France CLICK HERE )
The above information is given without responsibility of accuracy. ©jml Property Services 09/05
and French Property Tax Deadline May 09 and Property Tax Payment Time in France Again - October 2012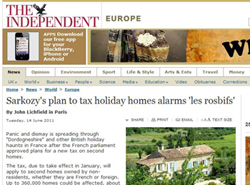 French Government plans to tax holiday home owners
Apparently this tax, due to take effect in January 2012, will apply to second homes owned by non-residents, whether they are French or foreign! Up to 360,000 homes could be affected, about half of which are thought to be owned by British nationals. Under the new law, the taxman would charge 20 per cent of the theoretical annual "rental value" of a second home, whether it is rented out or not. Homes rented out full-time will be exempt, since their owners are already assumed to pay sufficient French tax. Holiday home owners currently pay domestic property taxes - Taxe d'habitation (if applicable TV Licence include - L'audiovisuel public) and Taxes foncieres. Find out more on this Here June 2011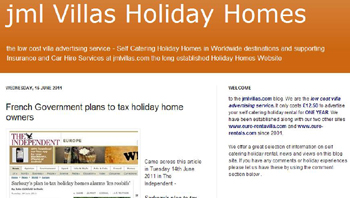 French Government drops plans to tax holiday home owners
Following the controvesal proposal to tax holiday home owners in France - A meeting was held on the weekend of the 18th / 19th June -11 with President Nicolas Sarkozy, Budget Minister François Baroin and senators representing French nationals living abroad, the proposed tax was dropped.According to a report in Citywire Money "The decision to scrap the tax may well have rested on the fact that French expats – who would also have been subject to the new tax – will for the first time have a chance to vote next year in the presidential elections. Sarkozy is currently seeking a second term in office". July 2011
Photos of Nice, Monaco, Menton & other areas in the South of France in the 1920s and 1960s Click here
South of France Fact File Click Here
Riviera realty from French Property News September 2006 Click Here


________________________________

Enjoy your stay in the South of France ....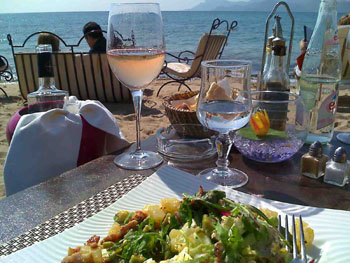 eat - drink -stay & wake up on the Riviera
________________________________________________
See site Map for statutory information about jml Property Services Here